Palo Santo essential oil is not as well-known as other aromatherapy oils. As you journey forwards with your essential oils knowledge, you're bound to come across more exotic sounding essential oils.
In a beginner's kit, the oils you receive are classics such as Lavender, Lemon, or Tea Tree.
But don't fear the lesser-known oils. Specific plants can do beautiful things for our health and well-being. They can improve our beauty routines, or match with our personal bio chemistry.
In this article, I'll introduce you to beautiful Palo Santo essential oil. What plants does Palo Santo essential oil come from? How would you use your bottle of Palo Santo? What does it blend well with? Which recipes would you put it in?
Let's get started!
What Is Palo Santo Essential Oil?
Palo Santo is a true aromatic treasure. It is steam distilled from Bursera graveolens, a wild tree native to a variety of countries in South America. Palo Santo primarily grows in the dry tropical forests of Latin America, Central America and the Yucatan Peninsula in Mexico. The essential oil of this tree has powerful therapeutic properties.
Translated from Spanish, Palo Santo means "holy tree". The tree belongs to the same plant family as Frankincense and Myrrh.
How to Use Palo Santo Essential Oil
Traditional Palo Santo essential oil uses are similar to those of Frankincense and Myrrh. The wooden scent of Palo Santo applies itself well in spiritual rituals, cleansing incense, and burning sticks. If you like to use oils with more religious backgrounds, this oil is for you!
Palo Santo is an oil with an ancient history. Various indigenous cultures have used it for its healing and purifying powers.
Use Palo Santo essential oil for spiritual cleansing ("smudging"). It is a natural purifier.
It is also a powerful support during meditation. Apply a few drops topically or wear it on your diffuser bracelet.
Use it in your aromatherapy diffuser to keep you and your family healthy through the winter months.
Massage into the soles of your feet if you're feeling blue, negative, lonely. Palo Santo can re-focus the energies in a positive way.
PLEASE NOTE: Palo Santo is NOT rated safe for children so please avoid it when the little ones are around. It is rich in limonene.
Palo Santo Benefits
An article at healthline.com explains the biggest Palo Santo benefits as reducing pain, repelling mosquitos, and improving our body's stress response. It is a traditional oil for clearing negative energy, and becoming your best spiritual self. I use it to help balance emotions or subtly bring the whole household together again (energetically speaking).
In that way, I like to use Palo Santo for meditation and prayer together (or instead of) Frankincense and Myrrh.
Blending With Palo Santo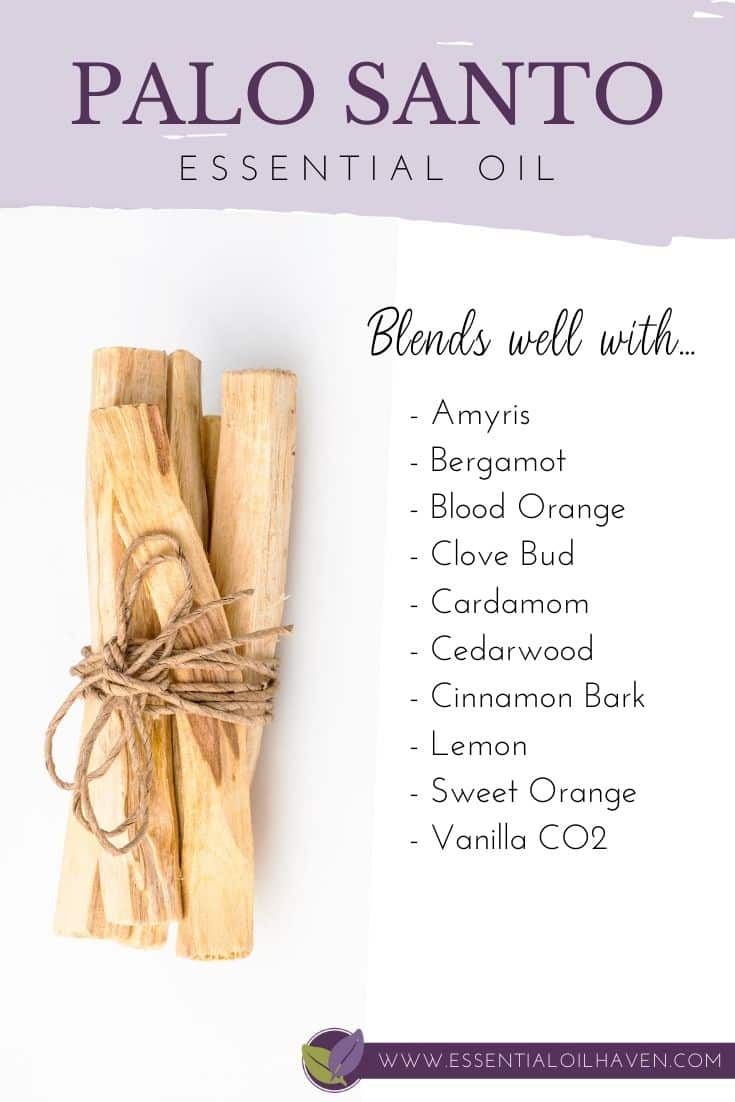 Palo Santo has quite a unique scent. It's woodsy but sweet, and also a little bit citrusy. I personally love the scent of Palo Santo, and am happy whenever I decide to use it in my day.
It blends well with:
Amyris
Bergamot
Blood Orange
Clove Bud
Cardamom
Cedarwood
Cinnamon Bark
Lemon
Sweet Orange
Vanilla CO2
Palo Santo stands up just fine on its own, but it is also equally as beautiful as part of your diffuser blends. Substitute it for Frankincense or Myrrh if you want to try it out in an existing recipe.
Where to Buy Palo Santo
Only well-established essential oil brands will stock Palo Santo essential oil. If you're looking at a brand website that doesn't offer this choice, perhaps consider shopping with a different oil company.
Reason being – by now, it's "fairly easy" to source and distribute the basic essential oils. The oils market has exploded and many have seen the business opportunity and are trying to be a part of it. Only true aromatherapy people will go through the effort and stock some of these more out-of-the-ordinary essential oils. And usually, this means the company is a larger, more established brand.
Don't get me wrong please, I'm not against small business start-ups. However, when it comes to the health of my family and home, I am picky about quality. I like to research my brand of essential oils and make sure I am buying something that I can ethically support, that is ethically produced, and that is the real deal.
If your essential oil company of choice doesn't have a full assortment of oils available, including some of these more exotic sounding oils like Palo Santo, they possibly haven't been around long enough to be an established essential oil business.
The oil I've used and featured for this article is from Mountain Rose Herbs. It's a fabulous essential oil company dedicated to all things organic. The 10ml size of Palo Santo sells for $20.75 at www.mountainroseherbs.com.
Other brands that carry Palo Santo:
Final Thoughts
Exotic-sounding essential oils are no more – and no less – powerful or useful than their more common cousins such as Lavender or Tea Tree. They will need a little bit of additional time to research and get used to. But once you've ordered some bottles, you'll be excited to jump in and try them in your DIY recipes.
Most exotic essential oils will not be included in a starter kit or sale set so you'll have to shop for them individually.
I hope after my article, you've gained confidence to try out some of these possibly new-to-you essential oils. Their luxurious properties could be an exciting addition to your aromatherapy home.
Further Reading