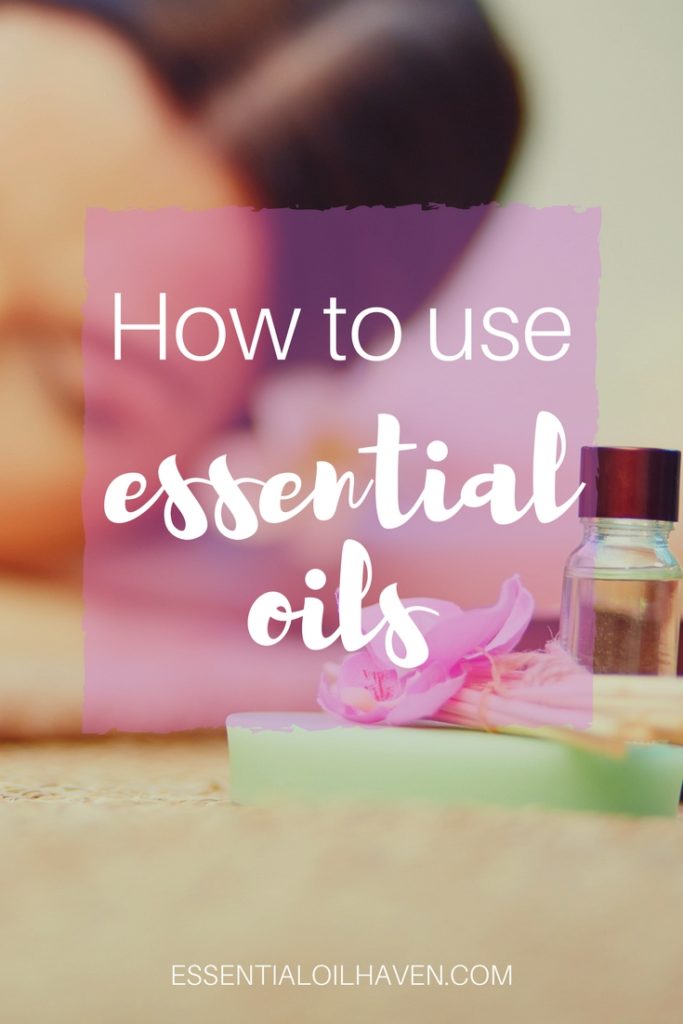 If you don't know how to use essential oils, don't feel overwhelmed or intimidated by how to get started with essential oils. It's really easy and a lot of fun! Below are a few ways in which you can start using essential oils, and soon you'll be surprised in how many areas of your life you are able to use your essential oils.
These methods are intended as guidelines only, and you need to pay special attention to all safety notices applicable for each specific essential oil that you choose.
Apply to the Skin
Essential oils are fat soluble, which means they are immediately absorbed by the skin. A popular way to enjoy your essential oils is to simply apply them to your skin for absorption – though never directly on the skin, but always mixed and diluted with a carrier oil such as sweet almond oil or apricot kernel oil.
Especially if skin sensitivity is a concern, definitely ALWAYS dilute your essential oil with a common neutral carrier oil (also called base oils) before application. Carrier oils are typically cold-pressed oils and do not evaporate like essential oils do, but they can go rancid where essential oils will not. Your choice of carrier oil will depend a bit on preference of smell, texture, and sensitivities to avoid allergic reactions. Popular choices for carrier oils are coconut oil, sweet almond oil, jojoba oil, avocado oil, sunflower oil or grape seed oil.
Popular areas of applying essential oils to your skin are on your wrists, your temples, your feet, or behind your ears.
Simply Inhale
You may choose to carefully inhale your essential oils. Rub 3-4 drops into the palms of your hands, or drop them on a tissue, inhale and enjoy. When using a new essential oil for the first time, only use one drop to make sure you don't have a reaction or sensitivity to the oil.
Steam Inhalation
Boil 2-3 cups of water, pour it into a bowl and add 2-5 drops of oil to the water. Place your nose about 12" away from the bowl, cover your head and bowl with a towel, and slowly inhale the steam. Using energizing or relaxing essential oils can make this method useful any time of the day or night. If you notice any discomfort or irritation, stop immediately.
Use an Essential Oil Diffuser
Electronic diffusers are designed to disperse a super fine mist of essential oils. They will gently fill the air with the aroma and healing benefits of the essential oil of your choice within minutes.

Put a few drops of essential oils in your diffuser, turn it on, and circulate the oil into your room. You can read my essential oil diffuser reviews (coming soon) about the different types of diffusers, how they work and how to use them.
Diffusing vs. Candle-Burning
Essential oils are "volatile", simply meaning that they easily evaporate at normal temperatures and break down molecularly when exposed to heat. The method of candle-burning to diffuse essential oils is therefore not recommended, as you can be destroying important health benefits of the essential oil with the heat of the candle.
Also remember that essential oils are flammable, making the electronic diffusing method safer and more versatile to use. You can plug-in an electronic diffuser anywhere in your home or office, without the need to carefully watch the flame, or needing to have a window open so that you have enough oxygen in the room to feed the candle flame.
Bath
Adding essential oils to your bath is an amazing way to take a relaxing time-out during your busy day. Buy a box of simple Epsom salts as the base for your essential oils. If you just drop the oils into the water, they will not dissolve as nicely as they do when first mixed into the salts, who then dissolve beautifully.
Also, don't combine any other chemically produced soaps or products into this mix in an effort to fully enjoy all the benefits of the essential oil and Epsom salts alone.
Aromatherapy Massage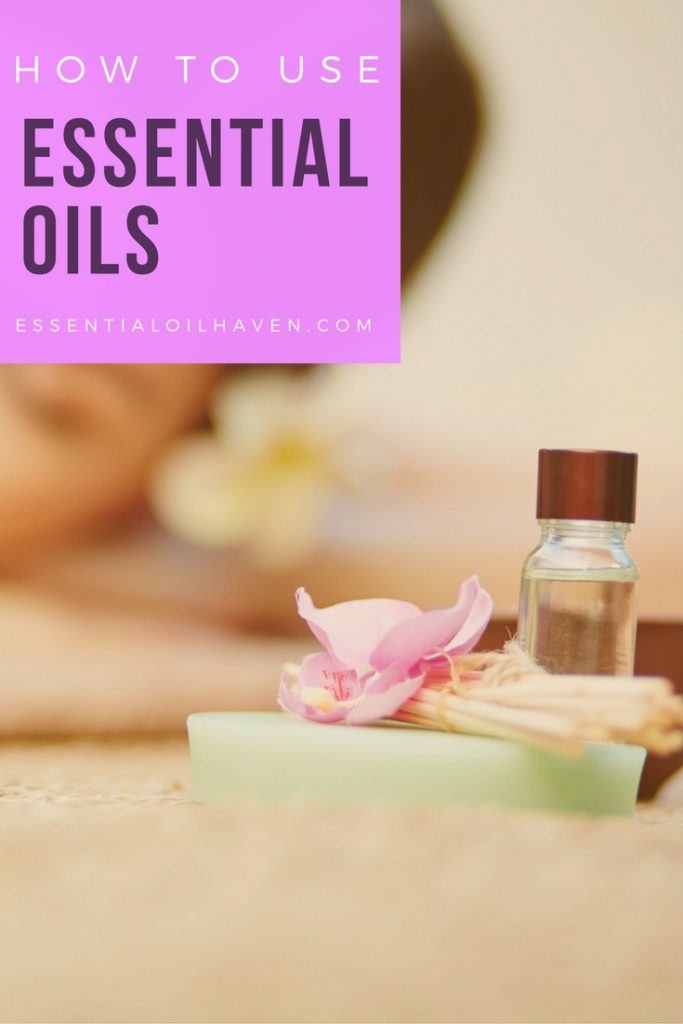 Essential oils are too concentrated and strong to use for massage by themselves, so you need to mix them in with neutral-smelling carrier oils such as sweet almond oil or grape seed oil. Add up to 20 drops of essential oil to 1 once of carrier oil.
Wondering how to best start with an essential oil massage, and which oils to use? Here are the 5 best essential oils for massage.
Why More is Not Better
Remember, essential oils are are heavily concentrated plant extracts. As an example, one drop of Young Living's essential peppermint oil equals the strength of 28 cups of peppermint tea! Even though this might not seem like a lot, a drop or two is often plenty enough.
I hope this page provided you with a good overview and information on starting to use essential oils as a beginner.
Further Reading
What are essential oil carrier oils?