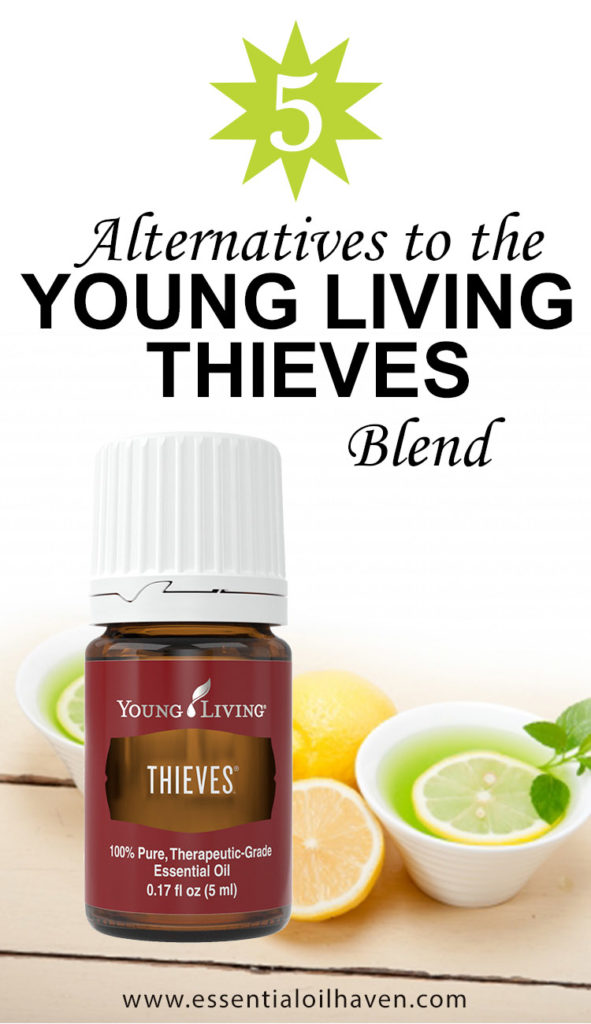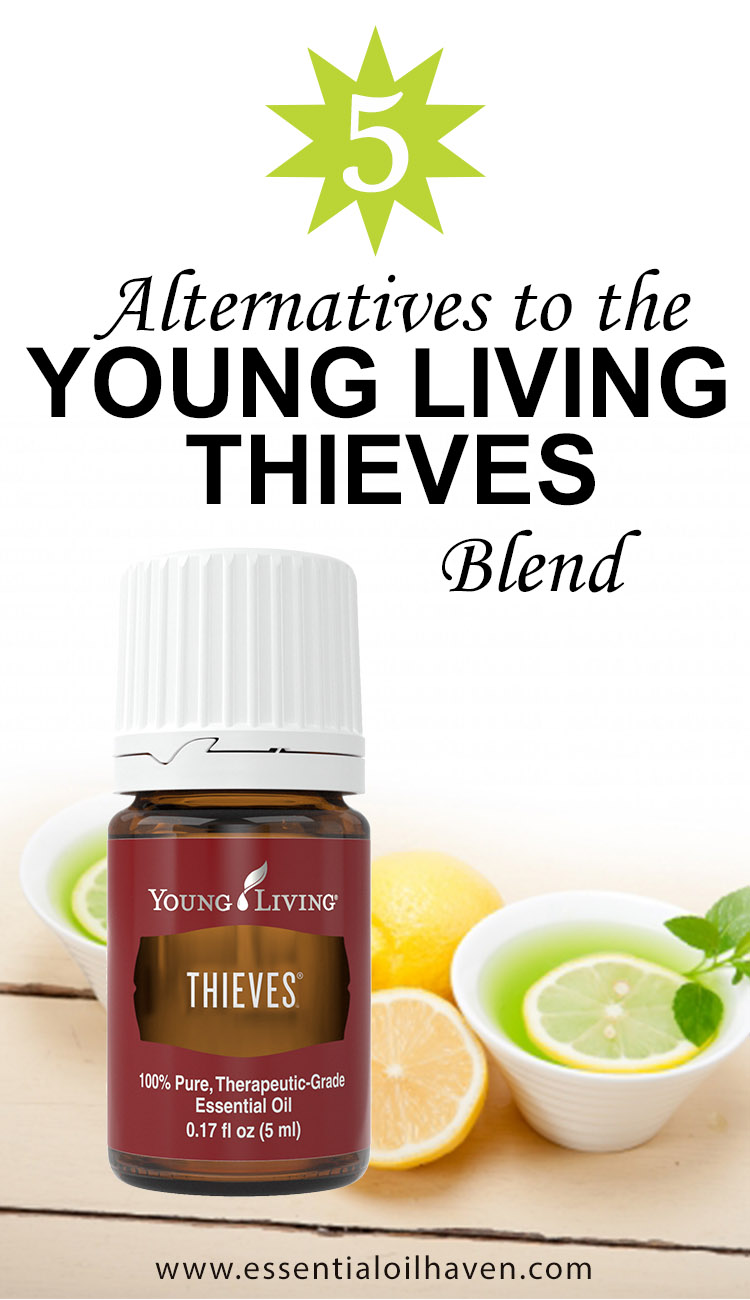 When I first got introduced to essential oils, all the rave was about the Young Living Thieves® blend. "It's the best household cleaner I've ever had!", or "my kids never get sick at school" were some of the many claims to fame of this popular oil.
It intrigued me so much, that I had to research the blend, and find out why it works so well – but also, how one could get it without having to pay the Young Living price tag. If you're with me, and want to learn about Young Living Thieves essential oil uses, and explore similarly powerful essential oil blends from other companies that are similar, here is everything I found out for you:
What's In the Thieves® Blend?
There are five different essential oils in the YL Thieves blend. They are listed below along with a brief description of what each oil does for us, if used individually:
Clove Essential Oil promotes a healthy immune response, and may support overall wellness.
Cinnamon Bark Essential Oil also supports the immune system, decreases inflammation, increases circulation and fights viruses and free radicals.
Eucalyptus Essential Oil (Eucalyptus radiata) further supports the immune system, and provides anti-oxidants, and improves respiratory circulation.
Rosemary Essential Oil is a rich antioxidant and works as an anti-inflammatory.
Lemon Essential Oil is also a powerful antioxidant; and has cleansing and purifying properties.
It comes as no surprise that many of the oils in the Thieves blend have similar effects and properties. These harmonious effects of multiple healing agents working together create an astounding natural super remedy!
Now, the Alternatives!
Having learned what exactly is in the Thieves blend, I've searched for other brands blends that had at least 4 of the 5 same essential oils ingredients matching  to the YL blend. As I'll be doing price comparisons on all the alternatives, please keep in mind that YL Thieves costs around $35.99 for 15 ml.
doTERRA OnGuard Blend
(5 / 5) — $36.99 for 15 ml
The doTERRA OnGuard blend also has 5 essential oils in it, and 4 of them are the same as in Thieves. The only difference here is the use of Wild Orange instead of Lemon. Clove, Cinnamon, Eucalyptus and Rosemary are used the same as in Thieves. As both Wild Orange and Lemon are in the citrus line of oils, they have quite a few similar traits, properties, and smells.
My smell test also reaches the same conclusion – you could never tell the difference! I would also say that their effectiveness is completely on par – both work well as cleansers or respiratory system supporters. Further, oil consistency is also exactly like the Young Living Thieves blend – nice and "thick" looking.
Eden's Garden Fighting Five Blend
(2 / 5) — $9.40 for 10 ml
Edens Gardens' equivalent to Thieves oil uses the exact same 5 oil ingredients: Cinnamon, Clove, Eucalyptus, Lemon and Rosemary. However, the amount of each oil used must differ as the Fighting Five blend has a slightly more distinct eucalyptus smell rather than the strong clove/cinnamon notes of both YL and doTerra blends.
Further, the oil is more "runny" or "thin" – another not such a great point for this blend.
Rocky Mountain Oils "Immune Strength"
(4.5 / 5) — $26.50 for 15 ml
The Rocky Mountain Immue Strength oil combines Clove Bud, Cinnamon Bark, Lemon, Orange, Oregano, Mandarin, Thyme, Rosemary, Nutmeg, Ginger Root, and Eucalyptus citriodora essential oils. These are quite a few more oils in the mix – but the main 5 oils same as in Thieves, are all contained in there, maybe with the slight exception of the type of Eucalyptus used.
In Thieves, it's the Eucalyptus radiata branch, vs. here in Rocky Mountain oils, it's the Eucalyptus citriodora branch that is being used. Find out more about the difference in the footnotes¹. In short though, the radiata strand is native to Australia only, and smells quite mild. Citriodora is also known as Lemon Eucalyptus Oil as it has a more fresh and lemony uplifting aroma.
Plant Therapy Germ Fighter
(5 / 5) — $14.95 for 30 ml
This blend by Plant Therapy basically carries the name of what Thieves "does" anyways – it fights germs. Whether that's germs from general household use or germs because you have a cold – it fights them all the same.
This blend in particular also contains 5 pure, undiluted essential oils: Lemon, Clove, Eucalyptus, Cinnamon Cassia and Rosemary. Again, ALMOST The exact same line-up as Young Living – with the exception of the type of Cinnamon used. Not all Cinnamon is created equal, and the cassia variety is more common and inexpensive compared to the Ceylon Cinnamon. Ceylon is milder, and more delicate in comparison. Again, please head to the footnotes² for a more in-depth comparison if you'd like to research this further.
Personally, I think this blend is spot on to Young Living's Thieves oil. Much like with doTerra's OnGuard blend, I can't even tell the difference between them.
DIY Young Living Thieves Blend Recipe
As a fifth alternative to Young Living Thieves blend, you can simply make your own mix! I'm calling this one a simple antibacterial essential oil blend, like Thieves!
The beauty of creating your own blend, is that you can always mix in a few more drops of one oil or another, should the scent notes not quite be to your liking… yet!
As I learned at the very beginning of this article, these oils are in their very nature already quite harmonious together and all support your well-being in similar ways. You're not going to be able to do this wrong! The only consideration in my opinion are time savings, to buy a pre-made blend instead.
Ingredients
2 drops Rosemary Oil
3 drops Eucalyptus Radiata Oil
4 drops Cinnamon Oil
7 drops Lemon Oil
8 drops Clove Bud Oil
Directions
1.  Purchase a clean essential oil bottle to hold your essential oil blend. I don't recommend using a previously used oil bottle as some of the scent notes could still be lingering in there. Additionally, it's nice to have a good, new dropper for your own blend. You can get them in any size, from 1 ml and up, mostly in packs of a few at a time. Get what suits your needs, depending on whether you make a lot of one blend, or maybe you prefer just making sample sized DIY blends at home.
2. Shake well before use. Use as desired.
In Summary
As my research shows, one can get a similar oil to Young Living's popular Thieves blend, at a fraction of the cost. While I wasn't too impressed with Eden's Garden's rendition of the classic, I can highly recommend the Plant Therapy alternative, Rocky Mountain oils or doTerra. Or of course, the Thieves Blend Recipe that you can easily make yourself at home. In Pricing, doTerra costs about the same as YL, so if that's a factor for you, consider doTERRA "out" as well. The Immune Strength from RMO is still quite a bit more expensive than Germ Fighter from Plant Therapy, also considering that the Germ Fighter comes in double the size than Immune Strength. Personal test winner: Plant Therapy's Germ Fighter.
IMPORTANT: Due to some of the ingredients in Thieves, the Thieves alternatives, or the DIY blend recipe, they are all is considered a "hot" blend – which means you should always always always dilute it before application. Find out a list of best carrier oils here, or use it in your diffuser at 2-3 drops per 100 ml.
Questions? Please let me know in the comments!
Resources
¹ Differences between Eucalyptus radiata and Eucalyptus citriodora: www.experience-essential-oils.com/uses-of-eucalyptus.html
² Differences between Cinnamon Ceylon and Cassia: http://www.healthline.com/nutrition/ceylon-vs-cassia-cinnamon#section3