This post contains affiliate links, which means I receive a small commission if you make a purchase using these links. Shopping does not cost you anything more. Thank you for supporting my website.
Welcome to my Anjou Essential Oils review. I've recently had the pleasure of testing out this new-to-me brand – and I am writing this review here to share my experience with you, and some background research that I've done on the company. Hope you enjoy!
Anjou At A Glance
100% PURE AND NATURAL: Anjou oils do not contain any fillers, synthetics, additives, bases, or carrier oils. The product is a 100% Certified Pure Therapeutic Grade Essential Oil.
THERAPEUTIC GRADE: Just to repeat: YES, Anjou oils are a 100% Certified Pure Therapeutic Grade Essential Oil. They're great to use in aromatherapy, massage and relaxation, or added to bath salts, body creams, or shower gels.
HARVESTED AROUND THE WORLD: Essential oils are best cultivated and produced in their natural climate and environment. That's where they grow best and at their most authentic state. Anjou oils bring you this experience with their six authentic essential oil flavors produced around the world, and deliver them right to your doorstep in pretty bottles of oils. (Flavours available are Lavender, Peppermint, Eucalyptus, Sweet Orange, Lemongrass and Tea Tree Oil.
A Brief History
Anjou Essential Oils is a very new essential oil brand, established in 2015 with the goal of bringing products to market that empowered users to live more confidently and naturally. The company is headquartered in Fremont, CA with offices globally.
Anjou was started by a team of like-mined individuals who wanted to bring the beauty and power of essential oils and aromatherapy to everyone at prices everyone could afford. Anjou's exclusive collection of skincare products and essential oils are all made using preservative-free ingredients from around the world in order to empower users to live more naturally and confidently.
All skin and body care products are made using preservative-free ingredients, and sourced from around the world. This is rooted in the belief that natural ingredients thrive and grow best in their natural environments – so that's where they'll source their products. Whether it's Anjou Coconut Oil cold-pressed in the Philippines or Anjou Lavender Essential Oil extracted from South Africa, on most of the labels you will also prominently see the origin of the oil.
Anjou believes that by avoiding unnecessary synthetic chemicals and pesticides, your skin's true beauty and radiance will be able to shine through.
Be pure, be healthy, and be beautiful with Anjou.
Distillation is the most commonly used method of extracting essential oils at Anjou; the process is as following: Gently heat the plant (by itself) in a container. As the plant gets hot, it will generate steam containing the essential oils of the plant. The steam is collected by using a catheter. As the steam cools down, it will return to its liquid form. Because essential oil and water have different density, they will form different layers in the holding tank. Once the water layer is removed, the essential oil layer will be pure dew. In addition, Anjou also uses other methods, such as Supercritical carbon dioxide extraction, Solvent extraction etc. to extract certain essentail oils. I short, they choose the extraction method best suited according to each plant characteristics.
The Anjou Essential Oils Collection
Anjou essential oils offers a comprehensive line of products for a healthy and beautiful lifestyle. From essential oils to shea butter or men's beard oil, or even a Vitamin C Serum (!!!), you can find a variety of products to suit your needs. Best of all, Anjou won't break the bank while delivering high-quality products – always a bonus!
Here is a review of a few of my favorite products by Anjou:
Essential Oils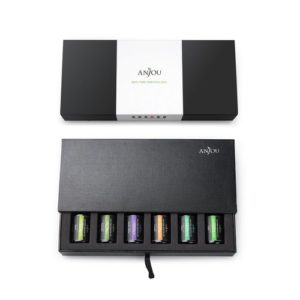 This set of 6 x 10ml essential oils from Anjou is a great gift set, or starter sampler kit as you can get it for under $20 on Amazon. It includes the fragrances of:
Lavender
Lemongrass
Peppermint
Eucalyptus
Tea Tree
Sweet Orange
It is really the perfect quality gift set for anyone on your Christmas list, or for a birthday or anniversary, or other special occasion.
Carrier Oils
Anjou carries a variety of carrier oils, namely Jojoba Oil, Coconut Oil, and Argan Oil.
Jojoba Carrier Oil: The Jojoba carrier oil is also titled "The Golden Oil" for its rich use in skin care and hair health. It is used regularly to improve your skin and hair elasticity, to help you shield against aging, to help cure acne and fix fizzy hair.
Coconut Carrier Oil: With many health benefits in general, ranging from cooking to skin care, it is no surprise that coconut oil also makes for a great essential oil carrier oil. In its natural form, cooconut oil is a solid – that is, to use it for a body lotion or massage, you'd have to heat it up first. Anjou coconut oil does ship in either solid or liquid form, and can be used for cooking as well. If you're looking for solely aromatherapy coconut oil, you'd probably like to try fractionated coconut oil instead, which is coconut oil already processed a bit to stay (and remain) in liquid form. It's a bit handier for aromatherapy, and comes with a handy pump for the bottle, too! But please don't use fractionated coconut oil in cooking!!!
Argan Oil Carrier Oil: Argan oil from Morocco is a multi-talent for an oil: It is very light in texture and can easily be absorbed by your skin. It penetrates deeply into your sking and hair, hydrating it and reversing damaged tissues. Hair will become shiny and silky smooth after a round of Argan oil applied. When used on the skin, the oils' anti-oxidation power can help you achieve a more softness and elasticity in your skin, as well as protecting your skin from other environmental toxins. You can also simply add a few drops of Argan oil to your soap, body lotion, massage oil or essential oil, to boost up those health benefits in your beauty routine.
More information on carrier oils is available on my other blog post here, What Are Essential Oil Carrier Oils?
Other Skin Care Beauty Products: Vitamin C Serum
Vitamin C Serum is used mostly on facial skin care, to give the skin in your face that extra direct boost of topical vitamins. The Anjou Vitamin C Serum provides your skin with 20% pure anti-oxidant vitamins. Its age-aging formula effectively reduces dark spots, evens out, and brightens complexion. It also boosts collagen, and restores your skin's vitality. Since "Fresh Is Better", this sealed glass bottle protects the serum from oxidation and preserves its freshness. The included dropper keeps the bottle content germ-free and makes it easy to dose and apply.
For only $7.99 on Amazon, you can't afford to NOT try this. I've ccrtainly added it to my skin care routine!
Bath Bombs
I'm throwing in this little luxury bath bomb set to show you just how diversified and all-encompassing the health and beauty line of Anjou really is.
These Anjou bath bombs, along the same line of company-wide commitment to purity, are also made exclusively of natural materials that undergo strict controls when it comes to quality and origin.
The bath bombs also include ingredients like shea butter and jojoba oil, which deeply nourish your skin on multiple levels. You can experience an improved skin uniformity and smoothness after using these little moments of joy. Plus, enjoy your skin feeling and looking younger thanks to the essential oils' natural anti-aging properties.
For Men
Long gone are the days where essential oils was only used in skin care and beauty regimes of ladies. Essential oils, and carrier oils, don't care what gender of skin they're on – they help both men and women alike! In that spirit, Anjou has a beard oil for men, nicely packaged in a gift set (though you can buy just the beard oil individually, too).
Basically, beard oil is a leave-in conditioner for that sensitive area of your man's face, where the skin underneath the beard requires as much care and attention as the beard hair itself.
To help you help your man get started with this (possibly new-to-him) beauty regime, the beard oil gift set is available for just under $20 on Amazon.
What I Personally Liked About The Products
When I received my Anjou products, I was pleasantly impressed by the lovely packaging and product branding. The gift set looks very elegant and luxurious, and is packaged properly with each essential oil bottle being held inside a styrofoam tray. Each bottle is safely sealed at the cap, but still easily enough opens with a twist for me to start using the product (see picture 5 below).
I like to keep all of my essential oils (once opened), stored upright, so placing the items back into the gift set packaging wasn't the best option for me – even though you could get away with it but just keep storing the box upright (see last picture below). Or, if you're looking for more fancy essential oil storage solutions, get a box or soft cover storage unit for them.
Anjou Essential Oils Quality
I tested and used all of the oils individually, and I was pleased with how strong their smell was, and how "accurate" to my nose, for the lack of a better word. Lavender smelled like Lavender, and Sweet Orange like it should, too. What I especially loved were the Lemongrass and Eucalyptus scents, which were strong and powerful but clean and pure smelling, too.






Customer Service
In Summary
Anjou essential oils is a new, younger essential oil brand. However, they are quickly establishing themselves on the market by serving only pure, natural made products that satisfy the demands of today's customers. User reviews and ratings are generally high for all Anjou products across the board, which speaks for quality of workmanship. Good customer care is also always part of the package, and by being available regular office days from 9-5 PST, I think that's a great way for people to reach out if they want to. I would definitely recommend Anjou as a brand to you, and this gift set especially as a starter kit for any occasion.
Further Reading