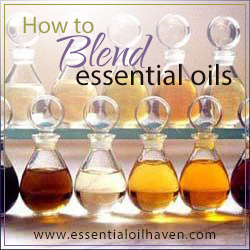 As I'm starting out, I'm thinking blending essential oils is quite intimidating! How do I know how much to use of each oil? Which oils go together? What effect will the combined oils have? Will they complement each other and really make my aromatherapy recipes work?
What I know so far, is that blending essential oils is definitely part art, and part science.
Group your essential oils
Before beginning to create your own aromatherapy recipes of any sort, a good starting point is to categorize your essential oils into groups that share similar traits. This can be by what they do (effects you're after), how they smell (scent type), or if you want to be really technical, you'll sort them by their chemical make-up of how fast each of them evaporates (notes).

By effect you're after
Grouping essential oils by the type of effects they have actually makes the most sense to me; I find it the easiest to grasp.
Create yourself a reference by simple Google research on which oils are classified for example as energizing, calming, or any other state of mind or health you are trying to address.
Essential Oils by Effect You're After
Energizing
Rosemary, Clary sage, Bergamot, Lemongrass, Eucalyptus, Peppermint, Spearmint, Tea tree, Cypress, Pine, Lemon, Basil, Grapefruit, Ginger
Calming
Lavender, Geranium, Mandarin, Bergamot, Ylang Ylang, Neroli, Jasmine, Melissa , Palmarosa, Patchouli, Petitgrain, Sandalwood
Detoxifying
Peppermint, Juniper, Grapefruit, Rosemary, Laurel, Mandarin, Lemon, Patchouli, Hyssop, Helichrysum
Anti-anxiety
Lavender, Geranium, Roman Chamomile, Marjoram, Sandalwood, Valerian, Bergamot, Jasmine, Black Pepper, Tangerine, Orange, Melissa or Lemon Balm
Blending essential oils that are within the same category usually works well and makes for a mix with complementing qualities.

By scent types
Group your essential oils into categories of similar smelling scent types.
Some oils could certainly fit into more than one category depending on how your nose "reads" that particular scent. There is no right or wrong, just create this chart as it feels right to you and use it as a base inspiration to start blending essential oils.
Essential Oils by Scent Types
Flowery
Geranium, Jasmine, Lavender, Palmarosa, Rose, Vanilla, Ylang Ylang
Citrus
Bergamot, Citronella, Grapefruit, Lemon, Lemongrass, Lime, Melissa, Neroli, Orange, Petitgrain, Tangerine
Spicy
Cinnamon, Clove, Ginger, Nutmeg, Pepper
Woody
Cedarwood, Coriander, Cypress, Fir, Frankincense, Helichrysum, Juniper, Myrrh, Patchouli, Sandalwood, Vetiver
Herbal
Basil, Chamomile, Clary Sage, Eucalyptus, Marjoram, Oregano, Peppermint, Pine, Rosemary, Sage, Tea Tree, Thyme
Oils in the same category generally blend well together.
And with a clear grouping system like this, you can then also choose an essential oil from one category and blend it with an oil from another category.
I'm not sure that there are dead-set, how-to-do-this-right rules on which oils go well together, I do think there's a level of creative freedom to your experimentations.
In general though, I'm learning that for example, citrus oils go well with spicy oils. Citrus and flowery also often blend well together. Woody and flowery usually works well, and Herbal and Citrus are usually a good combination, too. Find your own favourites!

By essential oil notes
Have you ever noticed that your essential oil blend smells differently after a few hours than when you first created it? This is because certain essential oils evaporate quicker than others, so while one oil might still hold its fragrance in the blend, the others may have long gone.
My secret tip for blending essential oils at home
If you're like me, you might feel a little bit overwhelmed after trying to sort your way through all of the essential oil blending tactics and techniques available. It is a lot of information! So, one of my most favorite things to do when I'm wondering how I should mix my essential oils together, is that I head over to Amazon, search for a type of blend that I'm after, and then read the ingredient list of essential oils to see which ones have been mixed together by the professionals.
As an example, a popular relaxing blend is 'Tranquility' by Rocky Mountain Oils. Its ingredient list is as follows: Orange, Tangerine, Patchouli, Lime, Ylang Ylang Extra, Lavender, Blue Tansy, German Chamomile, and Citronella. If you own any or all of these single essential oils in your collection, it's a pretty safe bet that they go well together. Why else would the pros mix up a tincture of this combination?
Of course, this simple approach does not give you the exact measurements of how much of each oil to use in your blend. Start with a 1:1 ratio of the same amount of drops for each oil, and adjust from there. This way, you can make this blend 100% fitting to your nose buds and your individual body's preferences.
Sleek trick, but it works for me!!! Let me know in the comments below if you've also successfully tried this!
Blending pre-made blends (synergies)
If you're hoping to mix together two already mixed blends, I recommend you stay away from this.
Synergies have already been made by experts to achieve a certain thing – if you want to alter this, I recommend just starting from scratch and mixing single oils. Since synergies have been pre-made, the exact quantities of what oils have been used can only be guessed, and outcomes are therefore quite unpredictable. Trying to add or alter blends may become more frustrating than satisfactory for you. But you can always read the list of ingredients from a blend you like – and then get those as single oils, plus add in whatever other oil you'd like to blend into the mix to make it totally your own!
Brand quality
Now, as with everything in life, it is imperative that you choose good-quality essential oil brand products for your aromatherapy recipes and oil blending experiments. Depending on what you use your essential oil blend for, you can get away with different grades of oils.
Almost all oils are for external use only, but there are a few brands that can be used internally. Some brands are therapeutic grade essential oils (pure essential oils), while others are not and contain fillers or additives. Some brands also offer an organic line to their oils, where you can specifically shop for organically sourced oils. Mountain Rose Herbs I know for sure has organic oils in their line-up.
A few popular brands of essential oils that fit a variety of needs and budgets are:
You can read more about these companies in my easy side-by-side comparison chart, part of my best essential oil brands page.
Essential oil safety
As essential oils are highly concentrated and some individuals and skin types may have allergic reactions to them, ensure you carefully read the safety labels and instructions for the particular type of product you choose. Further, please read this blog post here on which essential oils are safe to ingest.
What if I get it wrong?
As with any other creative expression, nobody is going to get hurt if you use a drop or two more of one oil in relation to another. You just may not get your desired result 100%; but then this also depends as to what application you're creating your aromatherapy blend for. If it's for mosquito repellant, well, I wouldn't be so concerned. If you're trying to get a blend right to support your healing practice, I might be a bit more alert as to how, when and why I mix these essences together.
If you now think that blending essential oils is a little bit too complicated, you may of course also explore simply buying professionally pre-made essential oil blends, and using them out-of-the box. Just be aware that with pre-made essential oil blends, you shouldn't use those to continue further mixing and blending them.
Further Reading
This article on aromatic blending of essential oils on AromaWeb seriously explains the concept of "notes" of essential oils the absolute best. Check it out on their website.