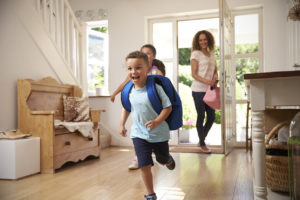 If you have kids in the house, you probably have some idea the number of things you have to make sure to be on top of. From making sure they're eating properly, sleeping properly, doing well in school, have a good dose of physical activity, are in good health…so much to do!
And such little time to do it all!
It is only reasonable to have some help with things and what would be better than having a complete 100% natural helping resource to count on? Essential Oils can really make a difference in your day-to-day school schedule, and here is how.
Essential Oils: Coming to Rescue Parents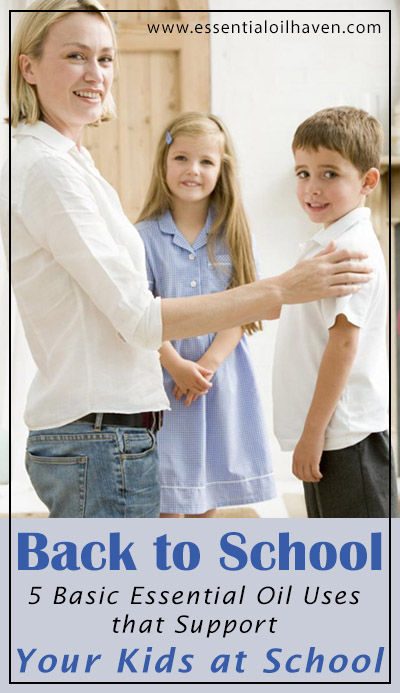 Adults have long been using essential oils for various purposes. In this article we will tell you how you can use them to take care of some of the most common problems that children face. You as a parent can then use these essential oils without having to worry about anything since they are completely safe.
But first, let's look at what those common issues faced by school-going children are:
Falling sick frequently (low-immunity)
Low-level of concentration
Poor sleeping habits
Scratches and bruises from all that running around
Pesky insect bites
What if we tell you that all of the above mentioned concerns that your school-going child goes through can be taken care of via essential oils? As a parent who is interested in learning more about what essential oils can do for their kids, we suggest you check out Rocky Mountain Oils. They have an online shop too where they feature several amazing essential oil blends and the best part is that they have a separate kidsline alone!
In fact, if you do have a school-going child at home, we recommend getting the Kids Daily Kit which features 4 different essential oil blends that help with immunity, concentration, achy muscles and sleep. Just one kit to knock 4 commonly faced problems by school-going children straight off the bat!
The roll-on bottle format is perfect for kids to apply mess-free: just open the cap, and roll the blend on a few key spots on your body, such as on the temples of your head, on the insides of your wrists, or to the bottom of your feet. The application depends a bit on your child's preference, and also the ailment you're trying to help with.
If you are interested in buying a specific essential oil blend on its own, without having to necessarily buy the rest of the kit, Rocky Mountain Oils gives you that option too. Continue reading and you will know exactly what we mean.
1: If your school-going child falls sick frequently:
Kids are more vulnerable to diseases because of their immune systems. As compared to adults, their immunity system is not that strong and therefore, cannot fight off germs, bacteria etc. as well as that of an adult's.
No matter how hard you try, you cannot keep your child in a germ-free environment all the time! So you need to shift gears.
The way to tackle this problem is by providing a boost to the immune system by feeding your child more nutritious food i.e. doubling up on the healthy and organic stuff! However, most kids are finicky eaters so this may bring several parents back to square one: can't really strengthen the immune system through diet!
Why not use a blend of essential oils for kids that may give their immune system the boost it needs without any side effects whatsoever!
What you need: Rocky Mountain Oil's Immunity blend. The Frankincense carterii constituent which the blend contains is known to work wonders for the immunity system.  A little application of this blend before going to school is an excellent idea.
2: If your school-going child struggles with concentration:
Having low-levels of concentration means trouble at school whilst not being able to pay attention to what's being taught in the class as well as trouble at home when it is time to sit down for homework!
There may be several reasons why your child reports low-levels of concentration and instead of worrying about it why not turn to an essential oil for help? Make applying this essential oil blend a part of your child's pre-homework routine.
What you need: Rocky Mountain Oil's Concentrate blend. The Vetiver constituent helps improves concentration and makes it a lot easier for your kid to focus.
3: If your school-going child has poor sleeping habits:
Another common problem that school-going kids routinely face is that they complain of not getting enough sleep. While you may have a look at their routine to fix this problem, you may also consider using essential oils that help promote sleep.
What you need: Rocky Mountain Oil's Counting Sheep blend. The Lavender constituents which the blend contains help reduce the stress or tension that may be making it difficult for the child to sleep.
4: If your school-going child plays a lot, falls down a lot: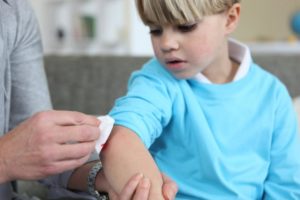 Children are known for running around and playing games. In fact, your child may very well be a part of the school soccer team!
Physical activity is as important for your child as other things in life are. So they are likely to get a light bruise here a tiny scratch there. Using an essential oil to help ease any pain or discomfort that the scratch may bring with it is a very good idea.
What you need: Rocky Mountain Oil's Ouchie blend. The blend contains constituents of Lavender, Helichrysum Italicum and Foraha and they collectively provide almost-instant relief from the pain.
5: If your child complains of getting insect bites:
Let's face it: you cannot completely eliminate mosquitoes and other bugs that might be roaming about. So it is likely that your child does get a bite or sting which obviously is going to hurt. Essential oils can help you with this too. They work as great repellants which will keep those bugs away from them.
What you need: Rocky Mountain Oil's Bug Away blend. The Citronella constituent works as a powerful insect repellant. If you are interested in getting an insect repellant for the entire family, Rocky Mountain Oil's Bug Off blend may be worth looking into.
The really cool thing about the essential oil blend by RMO that they have in their kid's line is the roller-ball applicator which accounts for the easy application. The blends are already diluted so all you have to do is to just apply them and notice the amazing differences they make in your school-going child's life.
Shop Rocky Mountain Oils Kids Line
What Is Your Experience?
Which essential oils do you like to use with your kids' school time routine? Let us know in the comments below!