The information in this article was initially published as a newsletter from Eden's Garden. It is reprinted with permission as an article on my blog.
From an Eden's Garden Newsletter: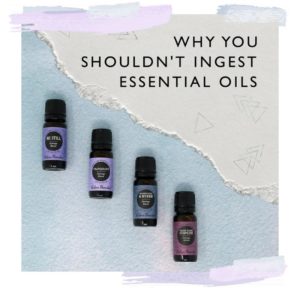 According to Edens Garden's customer service team, we receive questions on internal use more than any other question. This is no surprise, as this topic has been discussed and contended in many circles of essential oil users since aromatherapy first began. With so many varying opinions circulating, we hope that consumers are able to make their own judgments based on facts.
What is internal use?
Internal use is the act of ingesting a substance, be it food, drink or essential oils. At EG, we do not differentiate between oral use and internal use. If a substance begins at the mouth and enters the digestive system, it is internal use.
What happens when you ingest essential oils?
Common ways that people ingest EOs are through capsule, food, drink or by taking drops. Upon ingestion, the oil comes into contact with the mucous membrane which covers the mouth, esophagus and stomach.
Do you recommend internal use of EOs?
At Edens Garden, we do not recommend the internal use of essential oils without consulting with your medical doctor and an experienced aromatherapist, and here's why. Undiluted, pure essential oils are highly concentrated substances. For example, 250 pounds of steam distilled Lavender may yield 1 pound of Lavender essential oil. If you convert this number down to a drop, you will find that there is about ⅓ oz of Lavender per drop of Lavender EO. Thus, adding 3 drops of Lavender EO to a cup of water equates to adding one ounce of Lavender plant.
When added to a drink or swallowed directly, essential oils come into straight contact with vital organs such as the tongue, mouth, esophagus, stomach, etc. Because essential oils are miscible with fats, they attach to the mucous membrane which lines these organs leading to irritation and possible damage.

Why does the FDA consider certain EOs "GRAS"?
GRAS stands for Generally Regarded as Safe, and is a status given by the FDA in relation to food additives, including essential oils. Many times, people justify that essential oils can be casually ingested because this list exists.
However, the food and drink industry has set specific percentages at which these oils can be used as a flavoring agent either for safety, flavor intensity, or a combination of the two. These percentages are generally measured in parts per million (ppm). To give you an idea of what a ppm looks like, add 7-8 drops to a 60 gallon tub.
What about using EOs in a capsule or in cooking?
When intaking essential oils in a capsule, the oil will most likely not come into direct contact with your organs until the capsule is broken down in your stomach. Once the capsule breaks down, the EO may then attach to the mucous membrane in your stomach.
Essential oils are often times more diluted in cooking than other ways one may ingest oils. This might seem like a good reason to cook with essential oils, for those wanting to use EOs internally, but when you compare the cost of Lemon EO with a Lemon found in the produce aisle, you will find that it is not as cost-effective to use essential oils in cooking.
What's the exception?
At Edens Garden's, we're passionate about high-quality essential oils, which is why we go to great lengths to ensure all of our oils are 100% pure therapeutic grade. By GC/MS testing each batch of oil we offer and having each report approved by essential oil chemists and aromatherapists, we're able to guarantee top grade EOs.
With that said, when dealing with severe health issues, it may be appropriate and effective to use essential oils internally. However, we cannot express enough that if you are using essential oils internally, you should consult an experienced aromatherapist. Many certified aromatherapists still do not suggest internal use as it involves a lengthy intake of a client's health and an excess of aromatherapy experience.
Essential oils are powerful substances that can positively affect us when used properly but have the ability to cause damage when used improperly. With your safety in mind, Edens Garden does not recommend the casual ingestion of essential oils.
Want to Learn More about Eden's Garden?