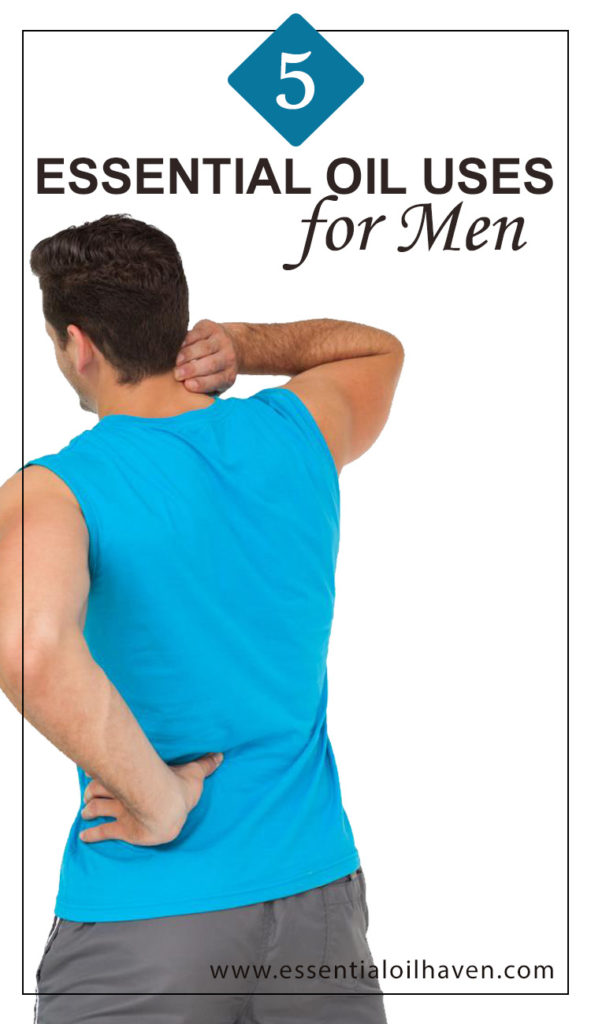 Are you the type of man who rolls his eyes in disapproval whenever you come across an essential oil hack?
You have no idea what you are missing out on, bro. Honestly, if you think essential oils are just something that's limited to the female species, you couldn't be more wrong. We have rounded up some of the best essential oil uses for men to help you change your mind.
1: For Sore Muscles:
So you hit the gym 6 days a week and do some heavy-duty exercises.
All in the name of keeping fit, of course! While working out and leading a healthy lifestyle is something worth getting inspired from, the aching and sore muscles that often make up the aftermath of exercising is not!
In fact, there are several people who skip working out altogether just because of what happened to that one cross-fit session they attended that one time.
Their muscles ached so bad that just the thought of going to the second session made their head spin a little. Did you know that you could take care of your sore and achy muscles by massaging them using an essential oil? Try one of the following:

Lavender oil
Peppermint oil
Cedarwood oil
Eucalyptus oil
Rosemary oil…
The list is truly endless. All of the aforementioned essential oils are super powerful at relieving the tension and soreness that builds in muscles. You can essentially choose one that you also like the smell of, to help you with your achy body. So the next time your muscles ache, pick up an essential oil instead of a pain-killer. There are several ways you can use essential oils to reduce the inflammation in your muscles. You can dilute them with other carrier oils and topically massage them on to the achy muscles, you can put them in a diffuser in your room or you can even put a few drops of an essential oil like lavender into your bathtub and soak your sore muscles.
2: Build Laser Sharp Focus:
Those never-ending phone calls with clients, those dreadful meetings that seem to drag on forever…you seem to get the picture. With the amount of workload all of us have to manage on a day-to-day basis, it is no surprise that the headaches seem to come that much more frequently as well.
And let's face it, the throbbing headaches make it impossible for anyone to concentrate. Grabbing an energy drink to help with things here would be like signing up for self-sabotage. Those energy drinks are going to do more harm than good.
Instead, the next time you feel like the temples of your head seem to be playing on a mini-set of drums, grab some peppermint oil or lavender oil. Both these essential oils are known for almost instant relief from headaches.
Just take some drops of peppermint oil, dilute it with coconut oil and rub it on to your temples.  The headache will soon be a part of history. If you're unsure on how to dilute essential oils, read up on my carrier oil guide here.
Peppermint oil has a very refreshing fragrance. If you have an afternoon presentation to deliver and you want to be at your sharpest and most alert, just take some deep whiffs of this amazing essential oil. It will wake you up like that.
3: Some Manly Skincare:
Men may not fuss around with having a skin-care regime as much as women do. And truth be told, when it comes to men there's no need to be so devoted to exfoliating and polishing your face at least 2 times per week. You'd be surprised to see just how a little TLC shown to your skin can yield excellent results.
Vetiver Oil is a really popular essential oil amongst men because of its smell. The earthy, balmy and the perfect sweet and spicy smell is often used in several colognes for men. Not many men know that vetiver oil is also great for skin! It's amazing at reducing blemishes and spots. Not only this but vetiver oil also helps in toning and tightening the skin.
Other notable essential oils that can be used for the face are argan oil and grape seed oil. Packed with fatty acids and antioxidants, these oils can be used as a part of your pre-shave regime. They lubricate the skin in a perfect way so that the razor blade just glides against the skin, giving you an amazing clean shave with no razor cuts at all.
4: Bad Smells Be Gone:

Whether it is stinky shoes that you want to tackle or you have bigger fish to fry and then getting rid of that smell, or you don't want your house to smell like the inside of a cigarette pack, essential oils are great at removing unpleasant smells no matter what their source may be.
Essential oils like lemongrass, eucalyptus, tea tree etc. smell awesome and can really help cutting the bad smell away. If you wish to have fresh smelling socks and shoes, just put a few drops of your favorite essential oil on some cotton balls and keep them inside your shoes. The next morning you will wake up to fresh-smelling shoes!
If you cannot tolerate your house smelling nasty, buy a diffuser today. Here's an amazing resource on how to find the best one for your needs. It will take down your odor related concerns in just a few minutes. There is no odor strong enough that cannot be taken care of by your favorite essential oil and a diffuser.
Might we suggest buying a separate diffuser for your car, too? There are many nifty portable essential oil diffusers available for around $10-$20 bucks.
5: Better Moods:
If for some reason you have trouble sleeping at night or you find yourself getting a little shaky over the smallest of things, essential oils can help you reenter yourself to a much calmer state.
Essential oils like chamomile are really good for inducing that calm feeling you long for. You can breathe in some chamomile steam or add them to your bath before you hit the bed to experience the best possible sleep. If you cannot arrange for a steam or a bath, you can dilute chamomile with a carrier oil and apply it topically as well.
There are essential oils that do much more than just calming you down and are great for your emotional health. Did you know that essential oils like frankincense oil can help reduce the feeling of loneliness?
Well, now you do.
In Summary
The really cool thing about essential oils is that even if you are using just one of them, you are reaping more than just one benefit out of them! All of them do so many amazing things even individually that just incorporating even one of them in your lifestyle can be a really smart move.
However, if you are using essential oils for the first time, it would be a better idea to test for any allergic reaction. For example, if you have never used lavender oil before it would be a silly move to add some drops of it in your bath and sit through a 20 minute soak and have yourself a reaction!
Always remember to test first.
Additionally, if you have any pre-existing respiratory conditions like asthma, always check with your doctor how safe it would be for you to use an essential oil. Always do your research and homework before starting anything for the first time. It is better to be safe than to be sorry!