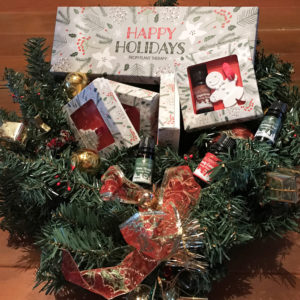 I've found a super neat way to introduce your kids to essential oils this Christmas season! One of my favorite essential oil brands, Plant Therapy, has released Holiday Blends that come with super cute holiday ornaments.
At home, we have tested them with our 10 year old daughter and made it a fun craft to decorate the white ornaments.
It was a fantastically fun Christmas craft afternoon! If you set this up for your kids, they will adore the extra special effort you've put into it! And after the painting, allow the kids arrange the ornaments along with other decorations on either the Chrsitmas tree, on a holiday wreath, or to create their very own fancy table centerpiece.
What Are The Plant Therapy Holiday Blends?
There are 6 holiday blends, each with their matching ornament:
Christmas Tree (KidSafe)
Winter Wreath (KidSafe)
Snow Flurries (KidSafe)
Spiced Apple Cider
Gingerbread
Candy Cane
The first three blends in this set make up the "KidSafe Winter Wonderland Set", and the last three are available as the "Home For The Holidays" set.
At the time of writing, the KidSafe kit was unfortunately already sold out, but you can still get the 6-pack set here, that'll include all 6 blends.
Or you can shop on Plant Therapy's website and buy just one or two ornament kits of choice, which includes the essential oil synergy blend plus the cute tree ornament.
Get your hands on these blends fast- they're a seasonal item so don't delay putting in your order or you might miss out.


What You'll Need For Your Craft Afternoon:
Plant Therapy Holiday Blend Set: Christmas Tree
A diffuser of your choice– to diffuse one of the lovely Holiday blends and set the mood!
Set of sharpie markers: the plain-old regular set of black, blue, green and red worked fantastically for us, but you can of course also get (or use) any other colors that you like or already have in your crafts box at home!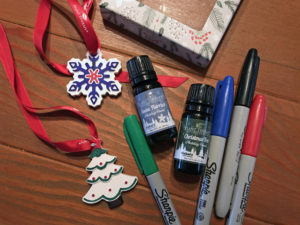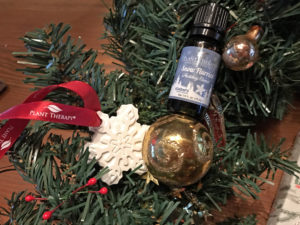 If you're fond of crafts like me, you might want to create your own Holiday Wreath or table centerpiece so that you can also decorate them with your newly made ornaments right away – plus save money. Crafts are broad kind of art no matter what! Simple crafts for kids can be a fantastic means to engage a young child through appropriate play and talk.
This craft isn't too hard for any youngster 6+ I'd say – as soon as they can handle applying somewhat accurate markers. It's ideal for the children to enjoy creating their own decoration pieces.
What You'll Do:
Select the ornament, and colors you wish to use for your craft.
Don't neglect to remove the little red ribbons first so you can accurately paint all of the ornament (it is very easy to get back in after you've removed it)
Paint your ornament.
Put 2-4 drops of the matching essential oil on the back of your ornament.
Hang your ornament. Accessorize your Xmas tree with this distinctive masterpiece that will awe your loved ones. 🎄
I hope you have a ton of fun this Christmas season, and enjoy plenty of quality time with your loved ones. It's always a special time that helps me reflect on the true meaning of this lovely holiday.
Happy Holidays,
Emma