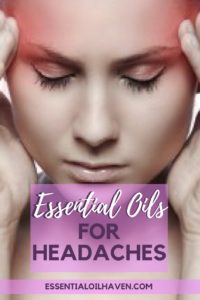 Headaches – they're ruthless! They often come about without any sign of warning, without so much as a flicker of an idea that a throbbing headache is around the corner.
No chance to prepare, headaches come and attack you without any warning and you will be left surprised with pain that all you can do is be irritated from the moment it strikes you. This is how a headache attacks –  And when it finally hits you, it makes you feel like you really need to find something to counter it – and FAST!
Headache Remedies
There are a lot of known remedies to relieve us from the pain and agony that is brought by headaches, and the effectiveness of these remedies sometimes varies greatly for each individual person.
Some people get relief from headaches just by sleeping it off or by taking a power nap. Some people need a massage to take away the pain, and there are also those who immediately go to their medicine cabinet and take a pill.
There is also another, alternative way for you to get that nasty little headache away from you. You don't need to take a pain reliever medication, get a massage or force yourself to sleep it off. All you need are some good essential oils and the knowledge of which oil to use and how to use it to make it work.
What Essential Oils Help Headaches?
Aromatherapy and the use and application of essential oils can help you get relief from your headaches. Below are some of the essential oils that are best to use in relieving headaches.
However, you actually don't have to stack up your home medicine kit with all of these individual pure essential oils… I did find a great alternative as well. You can get a set of pre-diluted, roll-on type essential oil applicators for under $40 from Plant Therapy. It doesn't use the individual essential oils, but rather a combination of essential oils into synergy blends that are named Germ Fighter, Lavender, Immune-Aid, Headache, Peppermint and Calming the Child. If you're looking for the easy solution to help your headaches (and other home first aid situations), this might be the kit for you!
Otherwise, please read on about the individual essential oils that help with headaches and their specific benefits and properties…
1. Eucalyptus Essential Oil
This essential oil is said to contain chemical components that allows the eucalyptus essential oil to act not only as an anti-inflammatory, but also as an expectorant, meaning it helps bring up mucus and other materials from your lung areas. If you are experiencing a headache that is caused by sinusitis or any problem that includes the sinuses, then this essential oil is the best kind for you to use.
A Great Deal At ~$10 For Edens Garden Brand Eucalyptus Oil
2. Peppermint Essential Oil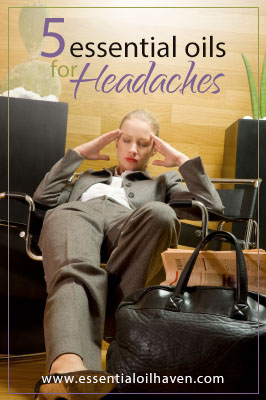 Most people find the scent of the peppermint essential oil to be very pleasing and comfortable because of it being quite familiar. When diluted at a low level of concentration, the peppermint oil can cause minty and an uplifting sensation but this could also be one of the most intense among all of the essential oils. It contains menthol, which gives that cool sensation that could really help a lot in relieving a headache. It can also be used for muscle pain and other body aches.
Although the menthol in the peppermint oil can feel very relaxing, it can also have a stimulating effect that is why you should avoid using this when it is already your bedtime because you might find yourself still up in the middle of the night when you should already be fast asleep.
Ca. $7.50 for 10 mL Undiluted, Therapeutic Grade
3. Spearmint Essential Oil
If you like the feel, scent and effects of the peppermint essential oil but feel that it is too strong for you to handle, then the spearmint essential oil is a really good alternative to use. It is much more subtle in scent than the peppermint essential oil but it basically has the same calming and therapeutic effects.
4. Roman Chamomile Essential Oil
This essential oil is very effective to induce a feeling of calm and relaxation to the one who is using it. If you are having a headache, feeling tired and stressed out, lonely or depressed, then this is the best essential oil that you can use. When you are feeling angry or irritable, this can also help you to feel calm and relaxed.
If you have ever tried drinking chamomile tea, then you are already very familiar with the scent of the chamomile essential oil, only it is much more fragrant and it still has that calming and sedative effect. This essential oils' anti-inflammatory properties makes it very effective in relieving headaches.
When you diffuse this essential oil properly, you can use it to help calm an irritable baby or a toddler throwing a tantrum – this is truly how effective and powerful it is.
100% Pure Therapeutic Grade: ~$25
5. Lavender Essential Oil
Pretty sure that it is not a surprise that lavender oil is a part of this list as it has a very aromatic, refreshing and relaxing scent. It also has anti-bacterial and anti-inflammatory properties which makes it an essential part of your essential oils home use first aid kit. Still, one of the most wanted effects of this essential oil is its sedative effects. It could help you relax easily and make you fall asleep quickly and assist in relieving you of your headache that way. Therefore, lavender essential oil is best used when you want to relieve a headache that is felt at night.
Further, Lavender is also one of the best essential oils to use when experiencing too much stress. Just inhaling the floral scent of this essential oil is already enough to take the headache away, especially when you know how to dilute or diffuse it the right way. Lavender oil is also one of the most safe oils to use. However, when you use it excessively, this can have a stimulating effect.
Get Started For Only $8.99 For Some Lavender Essential Oil On Amazon
How to Use Essential Oils For Headaches
There are two ways that you can enjoy the therapeutic effects of essential oils for headaches. First, apply the oils topically, wherever you might feel the pain, or maybe on your temple or forehead. Always dilute the essential oil with a drop or two of an appropriate essential oil carrier oil, apply the mixture on your skin and wait for the oil to work its magic. Another way to use it is in aromatherapy, where you use an electric essential oil diffuser to disperse the oil into the air. Or, you can put some of the essential oil on a cotton ball and put the cotton just right under your nostril – then take a deep breath and enjoy the pain-relieving sensations!
What Do You Think?
Do you have essential oil headaches success stories to share where you've used essential oils to help you cope with the throbbing temples? Let me know in the comments below!
Title photo courtesy of Ambro at freedigitalphotos.net.